Brian M. Runde, PE, LEED AP
Vice President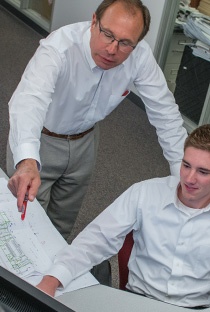 Brian Runde has over 40 years of practical, design, and engineering management experience on complex institutional, industrial, and science/research building projects. His designs have focused on applying proven energy conservation strategies to reduce the building operation and maintenance costs for building owners, while providing safe and controllable systems for the comfort of occupants. These systems include dedicated outdoor air systems, chilled beams, induction units, displacement ventilation, heat pumps, and high efficiency central plants. Brian has won numerous ASHRAE technology awards for outstanding achievement in the application of heating, refrigeration and air conditioning technologies, including for buildings ranging from central energy plants to 400,000 square foot museums, and complex science building projects.
Publications / Papers / Speeches
"Combining HVAC, Fire Suppression Piping." Consulting Specifying Engineer (CSE), May 2019.
"Chilled Beam Case Studies," presented to the AIA at AIA 2030, March 2014.
"Application of chilled beams in a laboratory building," presented to the USGBC at GreenBuild 2010.
"Right-sized: equipment and controls for super-efficient building systems," presented to the AIA at AIA 2030, August 2012.
"Chilled beam applications," presented to ASHRAE, March 2012.
"Science Building Design Challenge: Higher Air Quality with Lower Energy Consumption," presented to Michigan Association of Physical Plant Administrators (MiAPPA), 2009.