Peter J. Basso, PE, FAIA
Chairman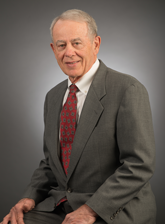 Peter Basso is Chairman of Peter Basso Associates. With over 58 years of experience in the construction industry, Pete has a diverse background in mechanical engineering and project management. His extensive work portfolio includes projects in all of the basic building types, with construction budgets of up to $1 billion.

Pete believes in a "hands on" approach to project leadership and is actively involved in brainstorming, mentoring and quality assurance on a day-to-day basis. He is deeply committed to excellence and quality in all projects the firm undertakes, and he continually strives to improve the firm's quality processes. Pete has an extensive background in various aspects of quality improvement and is a graduate of the Chrysler Quality Institute.
Publications / Papers / Speeches
Co-Authors: Basso, Peter J. and Wisniewski, R. M. "PBA Chairman, Peter J. Basso, PE, FASHRAE, and Principal Randy M. Wisniewski share Experience/Thoughts on Peer Review – A Commissioning Fringe Benefit or More." Consulting Specifying Engineer (CSE). April 10, 2019.