Sam Awabdeh, PE
Vice President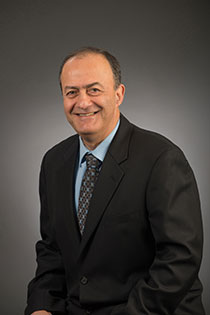 Sam works closely with the Project Team in the day-to-day management of a project. As project manager and lead mechanical engineer, he is responsible for the technical production of the electrical systems designed. He organizes and maintains each project file and provides electrical project leadership.
Sam's engineering background includes the design and administration of complex medium- and low-voltage distribution systems; commercial lab building design; architectural lighting systems; short circuit analyses and coordination studies; emergency power systems; and telecommunication systems.
Sam Awabdeh is a Vice President with Peter Basso Associates, and has 27 years of project experience.
Publications / Papers / Speeches
Author: Awabdeh, S. "Top Four Considerations When Replacing a Hospital's EPSS." PBA Blog, 2016.
Author: Awabdeh, S. "Replacing an EPSS at a hospital: A health care facility requires an emergency power supply system (EPSS). Its replacement must be carefully planned to reduce any loss of electrical systems." 2017.